Eco Electric Series – Eco Electric Cylinder
Eco Electric Series – Eco Electric Cylinder
Eco Electric Cylinder [ECY]
24VDC driven Eco Electric Cylinder, no controller needed. To focus only on the function which is essential at production line, we achieved to produce Eco Electric Cylinder which does not require complicated setting or adjustment.
Manual speed adjustment:
Easy to adjust speed at 9 stages with the dial, you can easily adjust same speed even on several cylinders. Since the dial is provided on main body, exclusive setting unit is not required.
Easy to unlock:
Automatically it locked in both forward and backward directions, preventing the workpiece from falling. You can easily unlock manually.
Compliant with IP65, it can be used in places with dust or water, and 24VDC driven reduces the risk of electric shock.
* Eco Electric Cylinder is for short stroke, from 50 to 200mm, and Eco Electric Slider is for long stroke, from 200 to 1970mm. If you are looking for long stroke, also check Eco Electric Slider.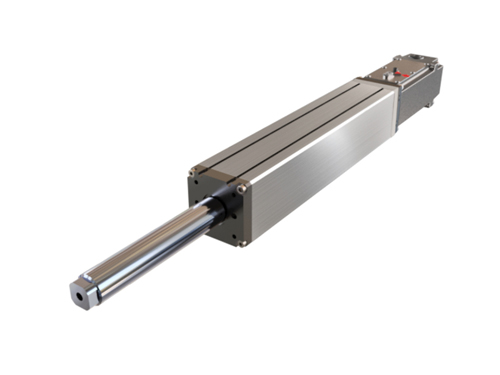 Type : ECY
Rated Thrust : 200N/400N
Stroke : 50/100/150/200mm
Rated thrust is selectable from 200N and 400N. (No difference in appearance)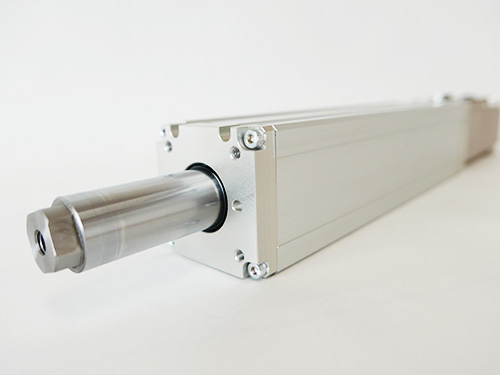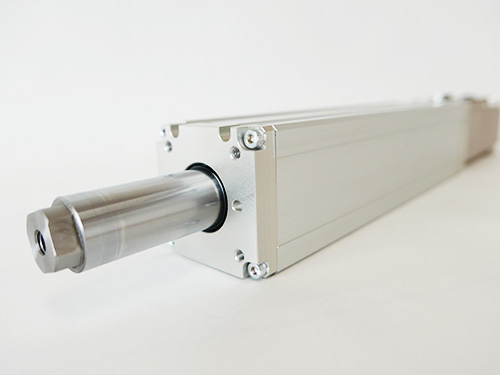 Stroke length (L) is selectable from the following lengths: 50, 100, 150, and 200 mm
Energy saving / low cost
No standby power consumed. No need for pneumatic tooling like compressor, and reduces CO2 emission.
No controller needed
Easy installation without any special driver.
Requires only a 24VDC power.
Easy-to-operate
Automatic pressed-to-stop at two stop positions. Stroke speed is adjustable with a dial on the motor module.
Safety
Enhanced with a lower torque motor and automatic brake function.